2021
It's a piece of cake! Literally...
Mads, Frederikke, and Emil are good at baking cakes, but can they bake something you can live in? You or maybe your children can if you settle in at Rouladegade and the surrounding area. Here, Rosa welcomes you to a new Ramasjang game developed by Dwarf. We call it Rosa's Neighborhood.

Rosa From Rouladegade
All children know the character "Rosa from Rouladegade". Rosa is the daughter of a baker and a spy, which shines through throughout her universe. She is possibly the most popular character from DR's children's channel Ramasjang and loved by all children because she steps in and entertains in a down-to-earth and exciting way, while the adults are busy with all the boring stuff. She loves to bake and helps children spy on their great-grandparents so they can secretly bake a good cake for them.
The Real Life Rosa
Rosa is called Rosa Gjerluff Nyholm and started her career as a very small person in her mother's music program in about 1990. Throughout her career, she has established a broad portfolio of plays, music releases, and she also has a hand in the game here.
The Task
We at Dwarf made the front page for Ramasjang's app, and in this connection, DR subsequently contacted us with a desire to create a completely new game for them. The game was to focus on some selected characters, and the choice fell on Rosa from Rouladegade due to the many possibilities that lay in her universe. To achieve just the right "Rosa feel", we hired Rosa as a consultant for the development of the universe in the game.
Three different levels
In the game, Rosa's neighborhood, starts the area by being empty, after which it's all about building fun and edible cake houses and expanding the neighborhood with the advice and help of Rosa, who regularly provides input. The game is built around three different levels; Rouladegade, Vaniljegade, and Giffelgade.
Storytelling
Here, players can click on vacant plots of land and get a story from the future owner (e.g. Onkel Reje) about how he wants his house to be built and whether it should be made of chocolate, whipped cream, or other sweets, for example.
The Solution
The game can be described as a "virtual creative building game" that targets 4-8-year-olds and is somewhat reminiscent of games like SimCity or Minecraft. In Rosa's Neighborhood, the child just builds with cake and sweets and is regularly greeted by requests from other residents such as Hr. Skæg and Onkel Reje. One of the fun elements of the game is that it doesn't have an ending, which means the player can keep building houses in Rosa's neighborhood and earn fridge magnets that indicate how many cake houses you've built.
Tech
Rosa's neighborhood is built in Ramasjang's existing platform. The creative characters are rigged and animated in Spine by Dwarf's partner Benny Box, and the remainder is animated in Gsap.js. The solution itself is built around Pixi.js, which Dwarf built in our own framework in Javascript upstairs.
Rama.js - a new framework
This framework was named Rama.js with reference to Ramasjang. This allowed older tablets, mobile phones, and computers to run the game without delays for the users. It also created an efficient and dynamic workflow for Dwarf in connection with the modular construction and recycling of elements. A huge win-win.
The Process
In the development process, we considered that production could be saved by building a "level designer" for the game in the very new and exciting frontend framework Svelte.js. The tool allows an editor to place items on the field, draw roads, and indicate where to build, who lives where, and eventually export level data in a format the game can read.
Asynchronous workflows
It also allowed the team to work asynchronously. So while work was being done on game mechanics, others in the team were able to build courses, and the team could thus work in pairs. This decision ended up saving us countless hours in coding and thus saved the customer a lot of money as well. Combined with our Rama.js has played "Dwarf", written all over it and shows a lean approach to game development.
The Result
The result is a beautiful, dynamic, and fun game for the little ones. The game was received beyond expectation by the kids, and it has already been downloaded numerous times. Every day they build between 10,000 and 30,000 beautiful cake houses. Mostly on the weekends.
Katrine Granholm
Digital Children's Editor for Ramasjang and Ultra at DR
"Ramasjang is in very good company. The Danish gaming industry has an incredibly high level, and we are very proud and happy about the award for best children's game of the year. Dwarf is a Danish heavyweight in designing and developing apps and websites, but this is actually their very first game. Still, they have produced an incredibly beautiful and entertaining game, based on the universe of 'Rosa from Rouladegade'."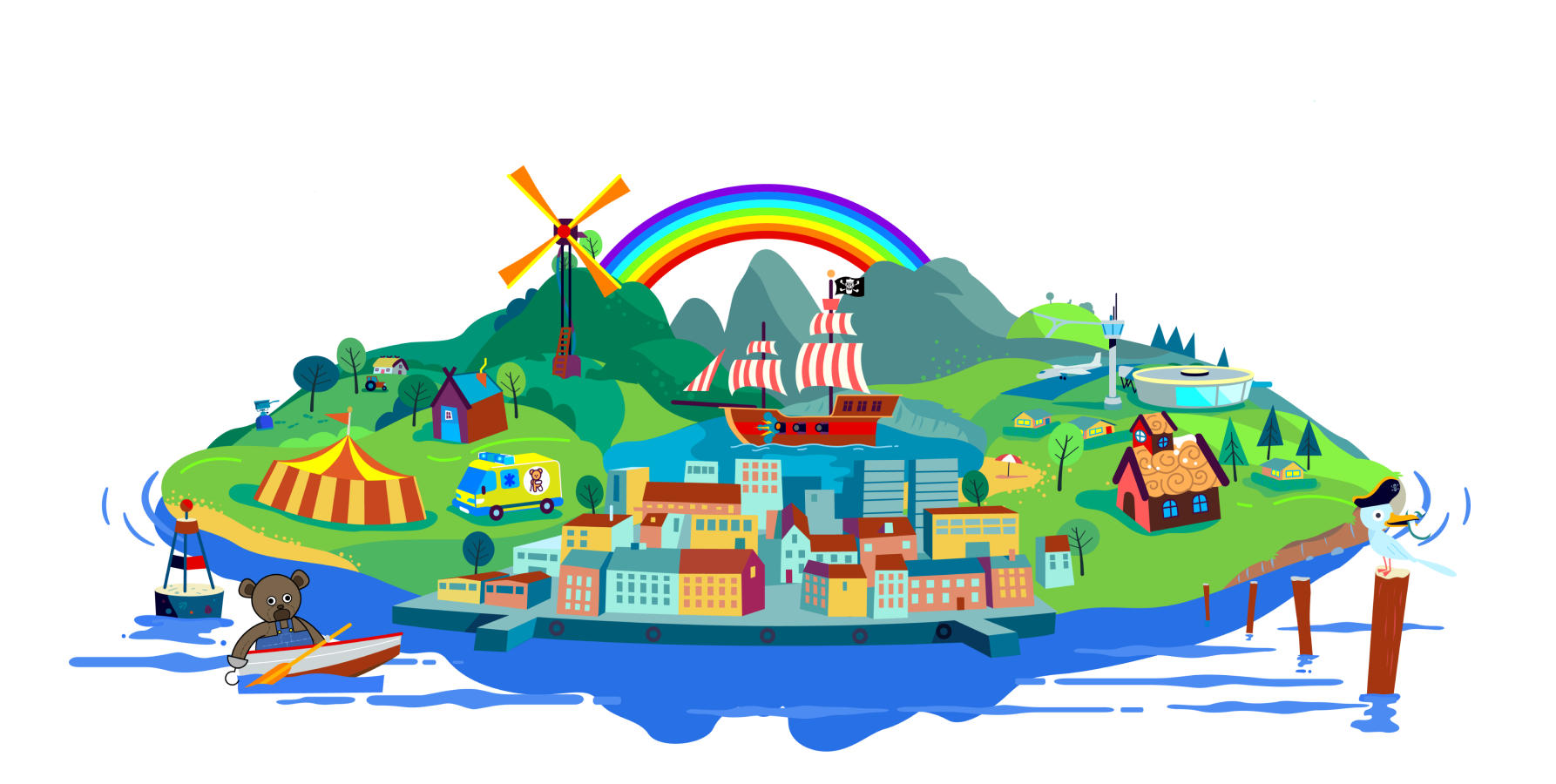 DR Ramasjang
What can you learn from a four-year-old?