2022
Easier to Be a Motorist
If you have registered your car for license plate payment at Brobizz, you do not need to do more. The tollgate goes up when you are driving towards it, you automatically get the lowest price of the day or your commuter price, depending on which product you have chosen - and payment and invoicing run automatically.
The Task
Not a lot of people need more, they think. But they do, they just don't know it yet. Because there are many choices and options that are important that the customers know about so they get exactly the product and package that offers the most value for money with their specific needs.
Digital Service Excellence
For Brobizz, it is all about digital service excellence, that provides both satisfied and loyal customers – and spares customer service, where customers can of course also get individual personal service, but where it is difficult to manage staffing and deliver short phone queues and fast service 24-7 - also on busy travel days or when the payment system is burdened for other reasons.
Welcome flow
How do you unfold the possibilities and the various services that your products contain in the best possible way? And how is this part of an onboarding process integrated into an intelligent marketing automation setup? This was exactly the task that Brobizz set Dwarf when they had to launch a new welcome flow for their Bizz and License Plate Payment.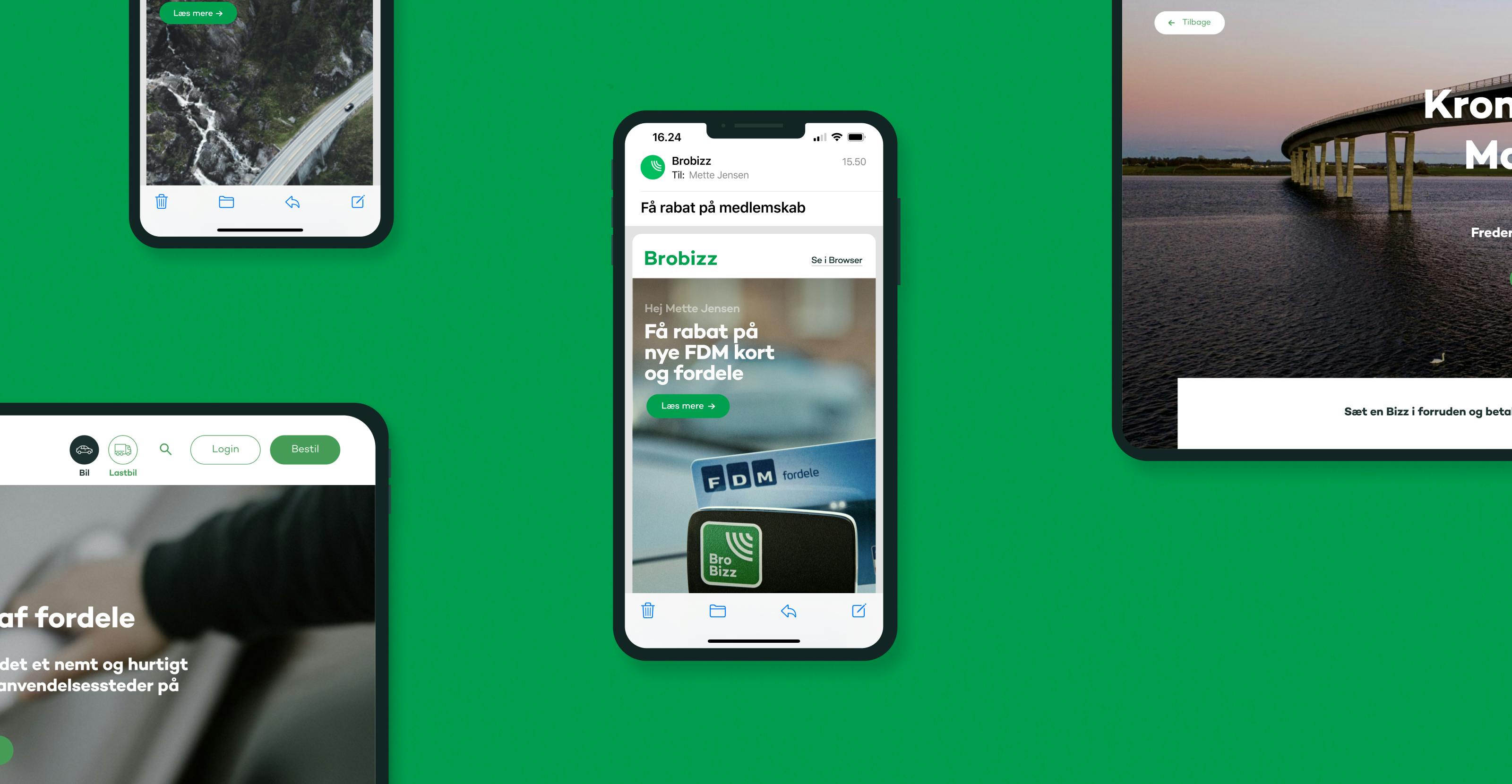 Bizz
With Bizz you can easily get around the country with automatic payment. This means that you both save time and can get great discounts.
Licence Plate Payment
With License Plate Payment, you can also easily get around the country with automatic payment through your license plate.
Bizz-customers
830.000
Number of Bizz-customers
License Plate Payment-customers
300.000
Number of License Plate Payment-customers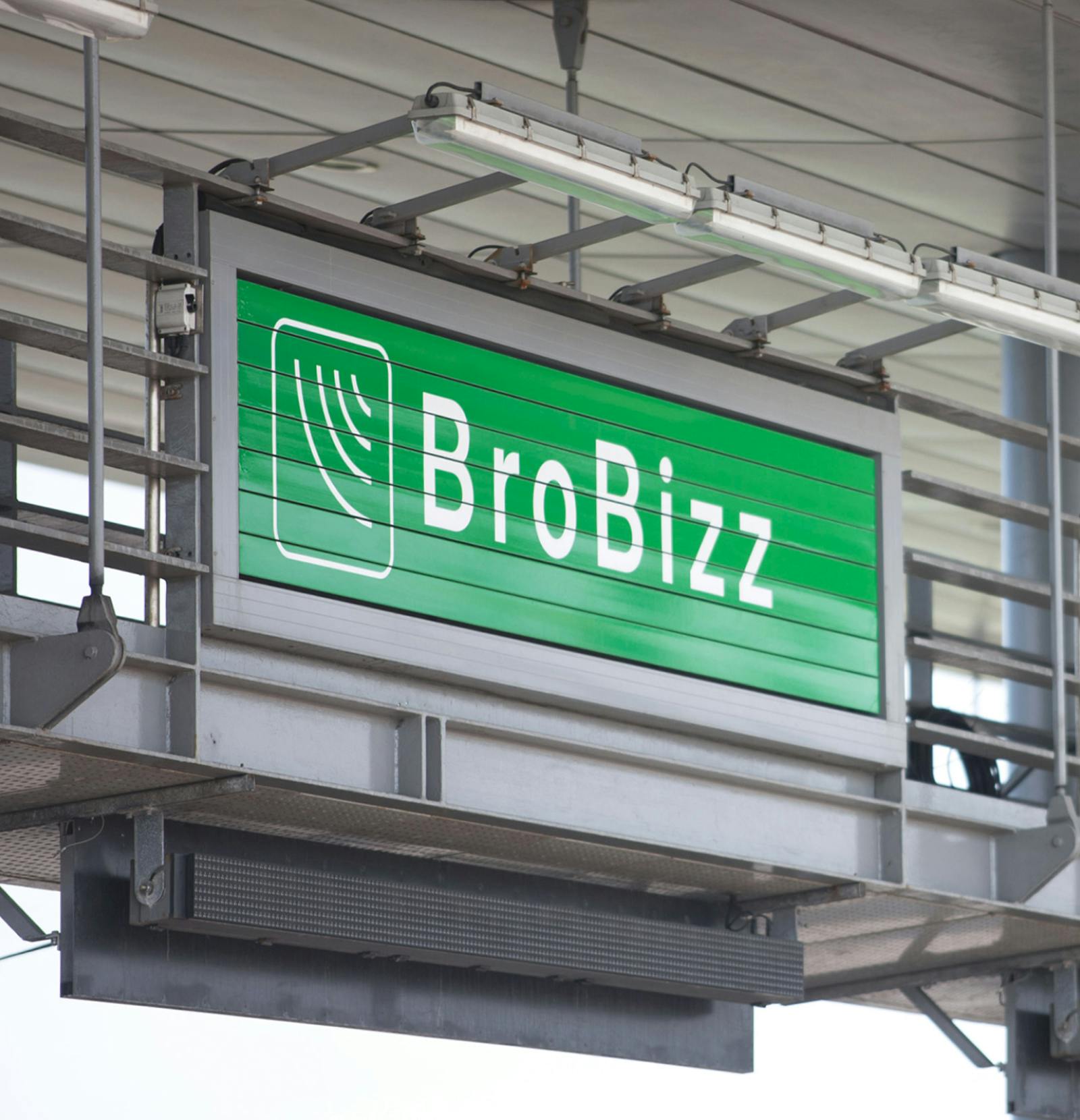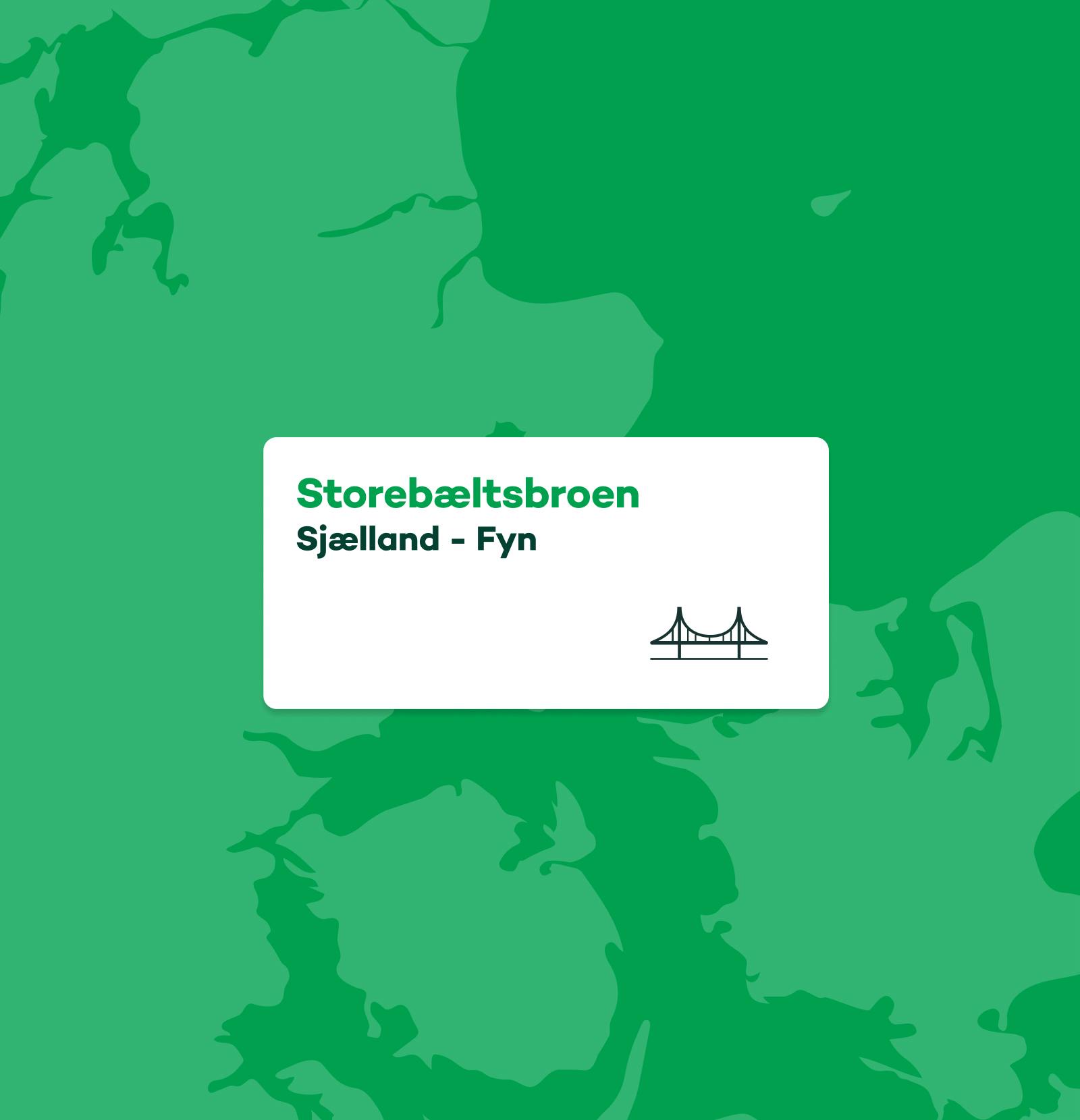 The Solution
In collaboration with Brobizz, Dwarf has developed an onboarding flow for new customers that takes the customer step by step through the product portfolio and explains the differences. So the customers who change cars or borrow/rent out their car are guided in the best possible way – while those who drive a fixed shuttle service in the company car are better suited to a commuter product and so on.
Individual communication
Similarly, some private customers need to be guided in the direction of the Brobizz app, so they get an easier way to keep their profile updated, e.g. in connection with a change of ownership or a new address.
All this and much more we help Brobizz tell their customers. The individual communication depends entirely on which product you already have or which ones you are considering buying. All communication is personalized based on the specific order, and the messages are segmented based on place of residence.
Customer journey
The onboarding flow extends over a communication flow of 17 days, where customers are presented with the many options that are relevant to them. Throughout the flow, it takes into account where in the customer journey you may be. So no matter what product you buy, whether you buy new products, or whether you download the self-service app, the communication will be customized for this.
In addition to improving the logic of communication, information is included for existing customers so that they are informed when new ferries, car parks, or other service providers are integrated into Brobizz' technical ecosystem. Everything is under several automatic flows with the main heading "Welcome".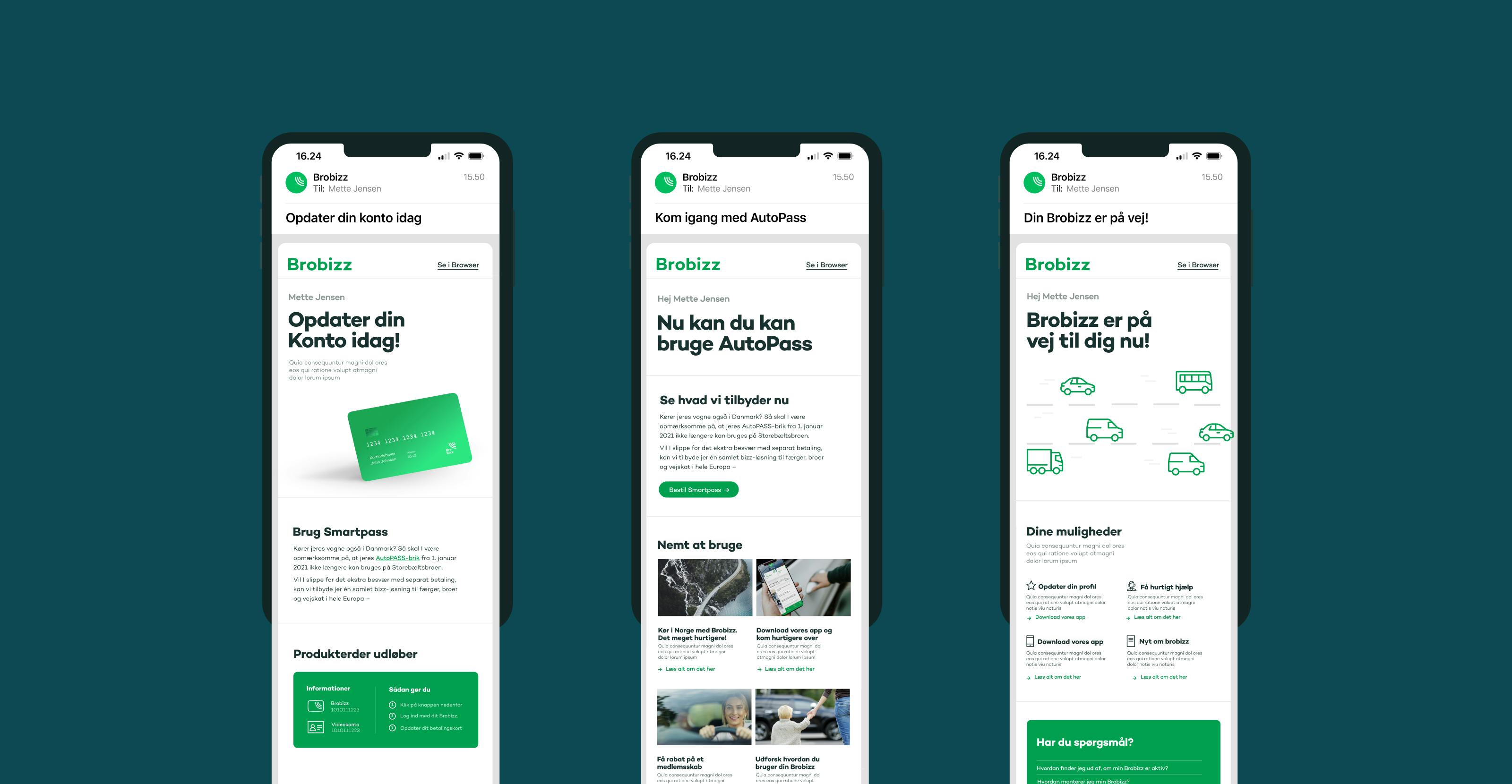 Agillic
The solution is built around and executed in Brobizz's marketing automation system, Agillic. All purchase combinations, local agreements, use of the app, and where you reside have been taken into account so that this communication can be targeted at the individual customer in the best possible way.
All the relevant data used to personalize communication is found in Agillic and is synchronized daily from Brobizz's core systems, so we always work with the latest data and are updated on all possible changes.
Design and UX
Brobizz's new visual identity on Brobizz.dk is implemented in all BtC and BtB automated flows, newsletters, campaign emails, and transactional emails. Based on the existing design guide, we have designed an email template to create coherence and recognizability from the site with a modular structure and flexibility in relation to content.
Through the use of colors and different headers, a visual differentiation has been created between Private and Business. Both templates have also clarified CTA, got a clear font hierarchy, shortened into textual content, and thereby deliver the content on the channel's terms – short and precise.
The Result
In addition to the onboarding flow and the use of Agillic, Brobizz has been able to send a trigger email via web tracking on their website about the benefits of using the app as a self-service portal for the customers with permission. Within 7 days, the number of new app users increased by 11%.
Dwarf has also helped set up email and SMS flow with the message that you need to update your payment card. SMS has created an increase of just over 13% in the number of customers updating their payment cards.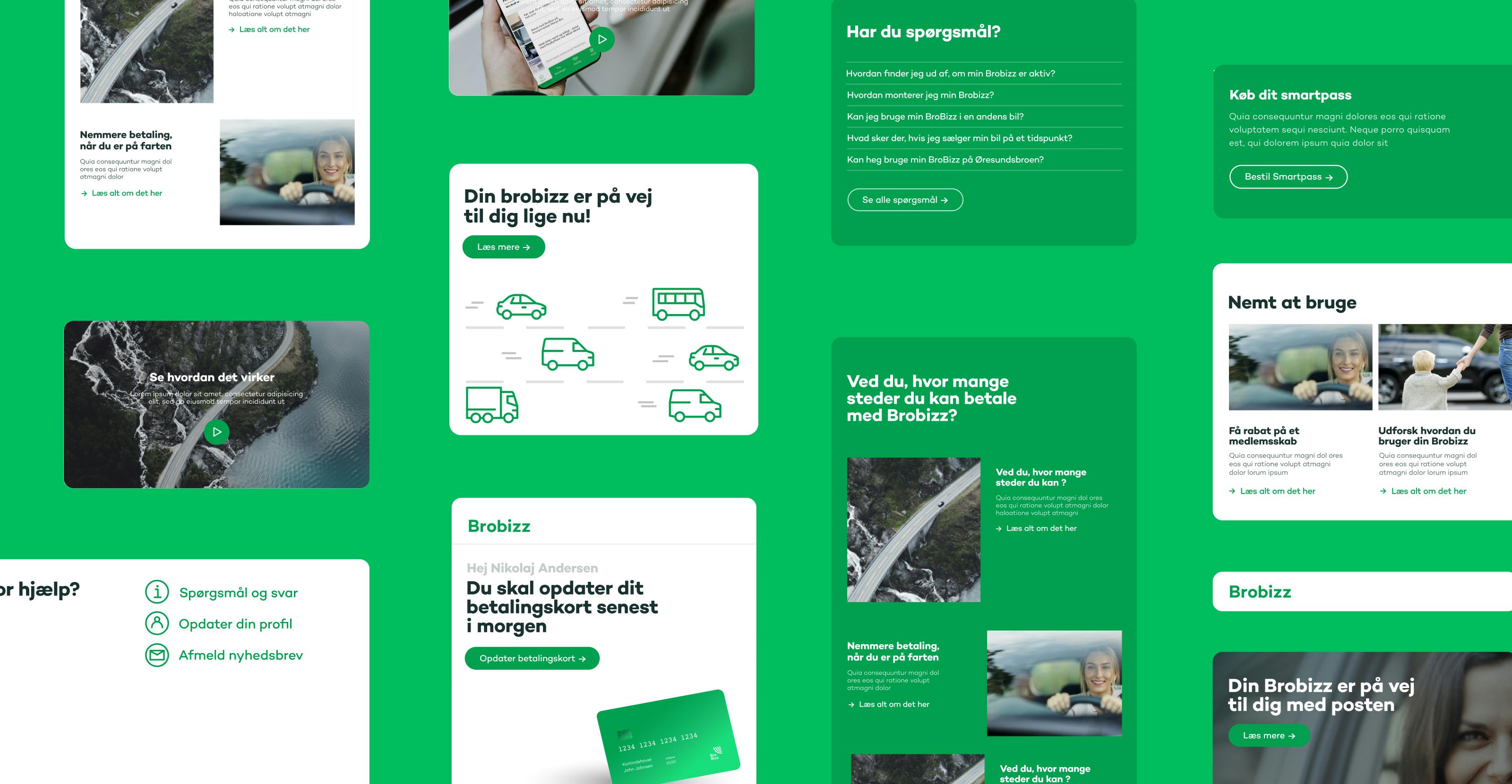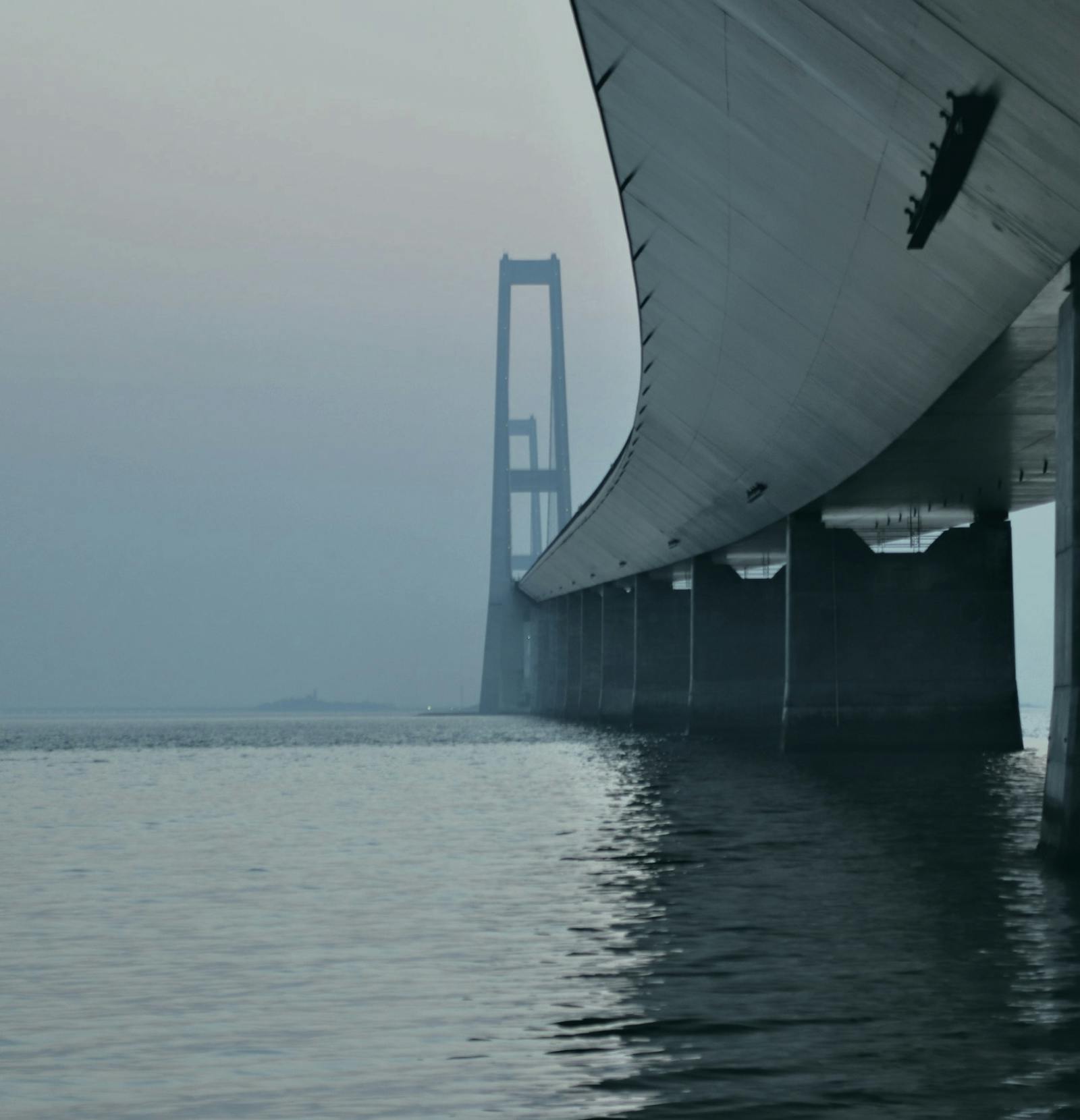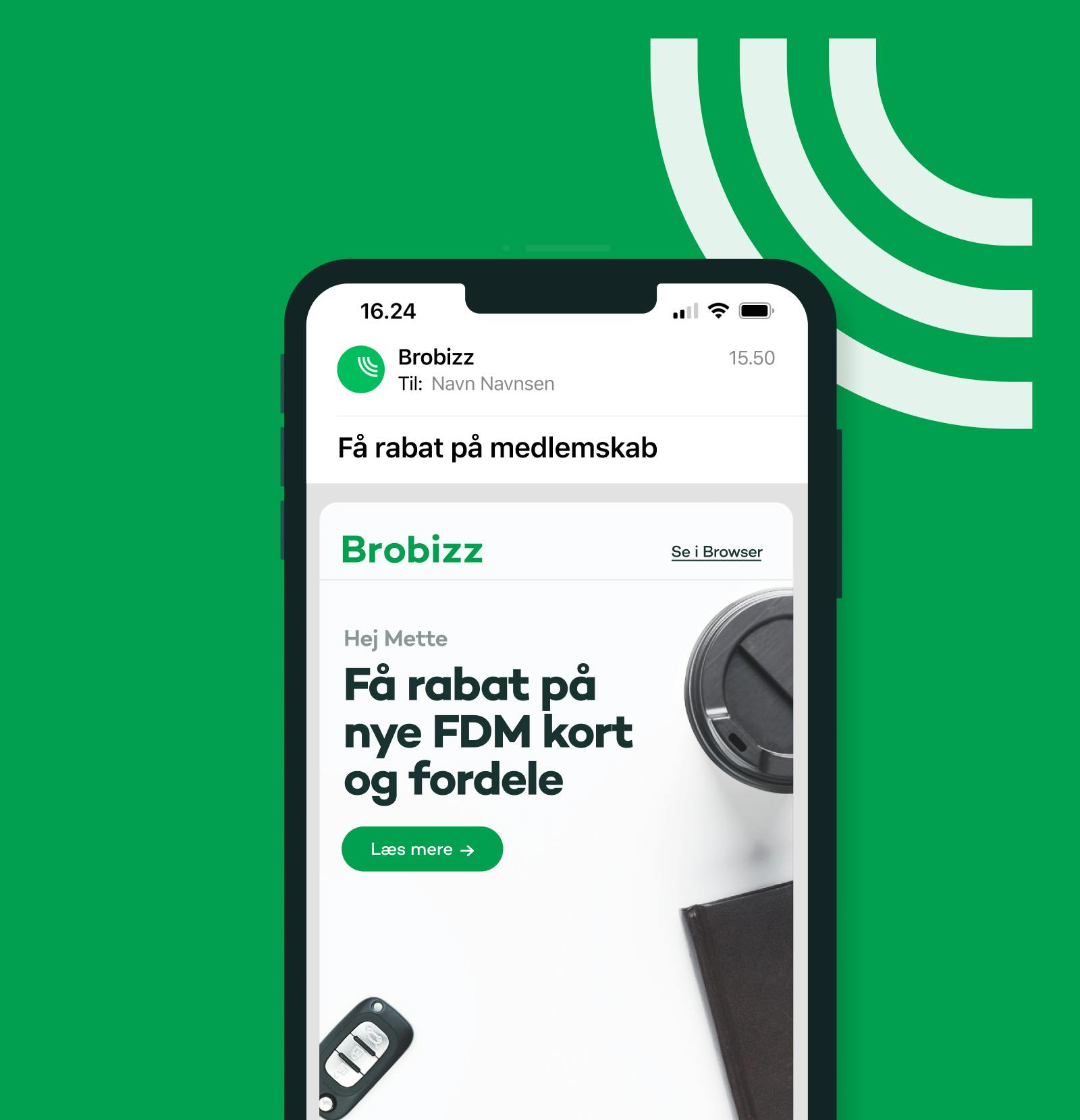 Camilla Crawfurd
Senior CRM Manager hos Brobizz
"We work with Dwarf on everything from design, UX, and marketing automation. Together, these three parameters help create the foundation for a solid multichannel setup, which Dwarf helps us execute in Agillic. Projects are always approached with great enthusiasm from the team at Dwarf and there is always a strong focus on delivering to the agreed deadline and budget."
Team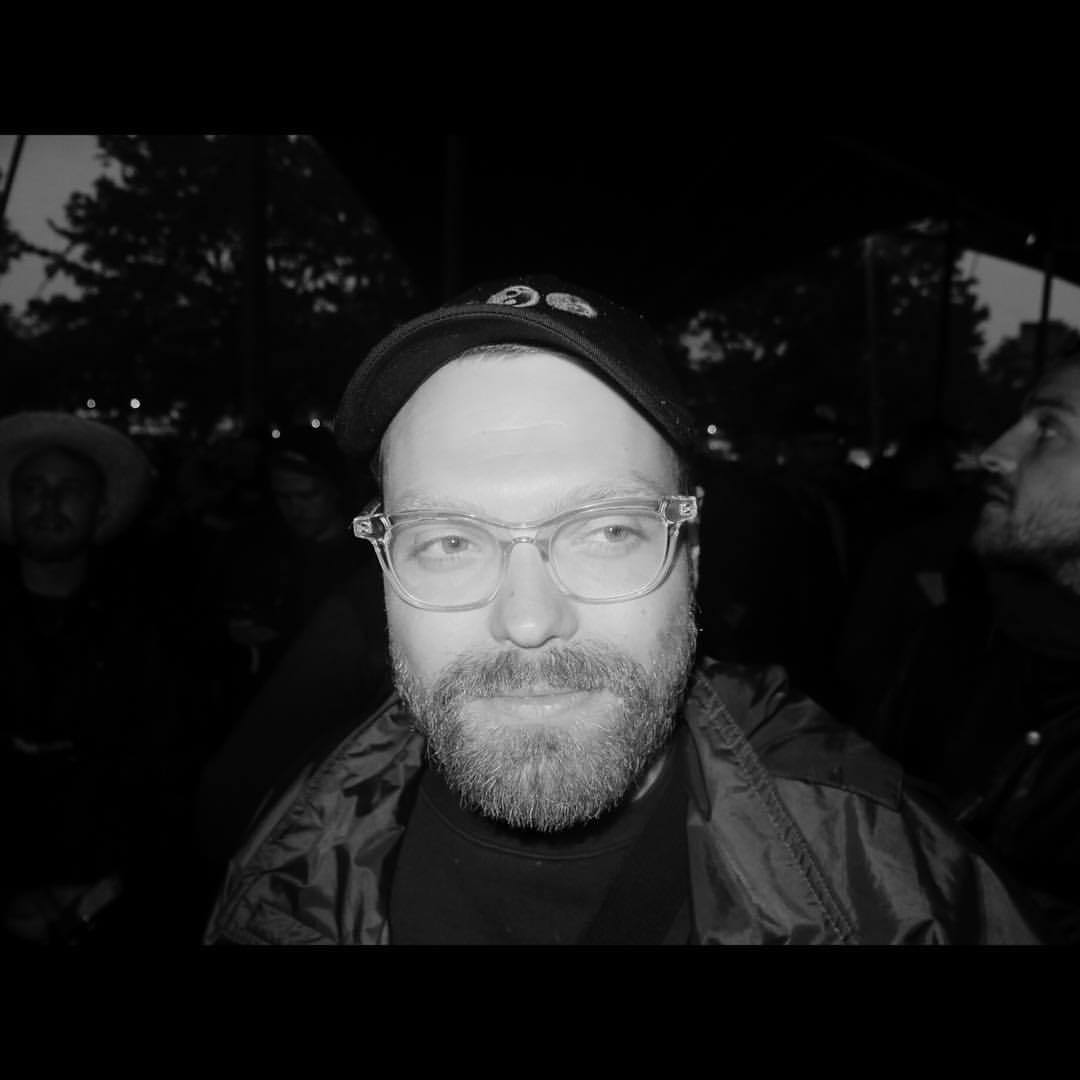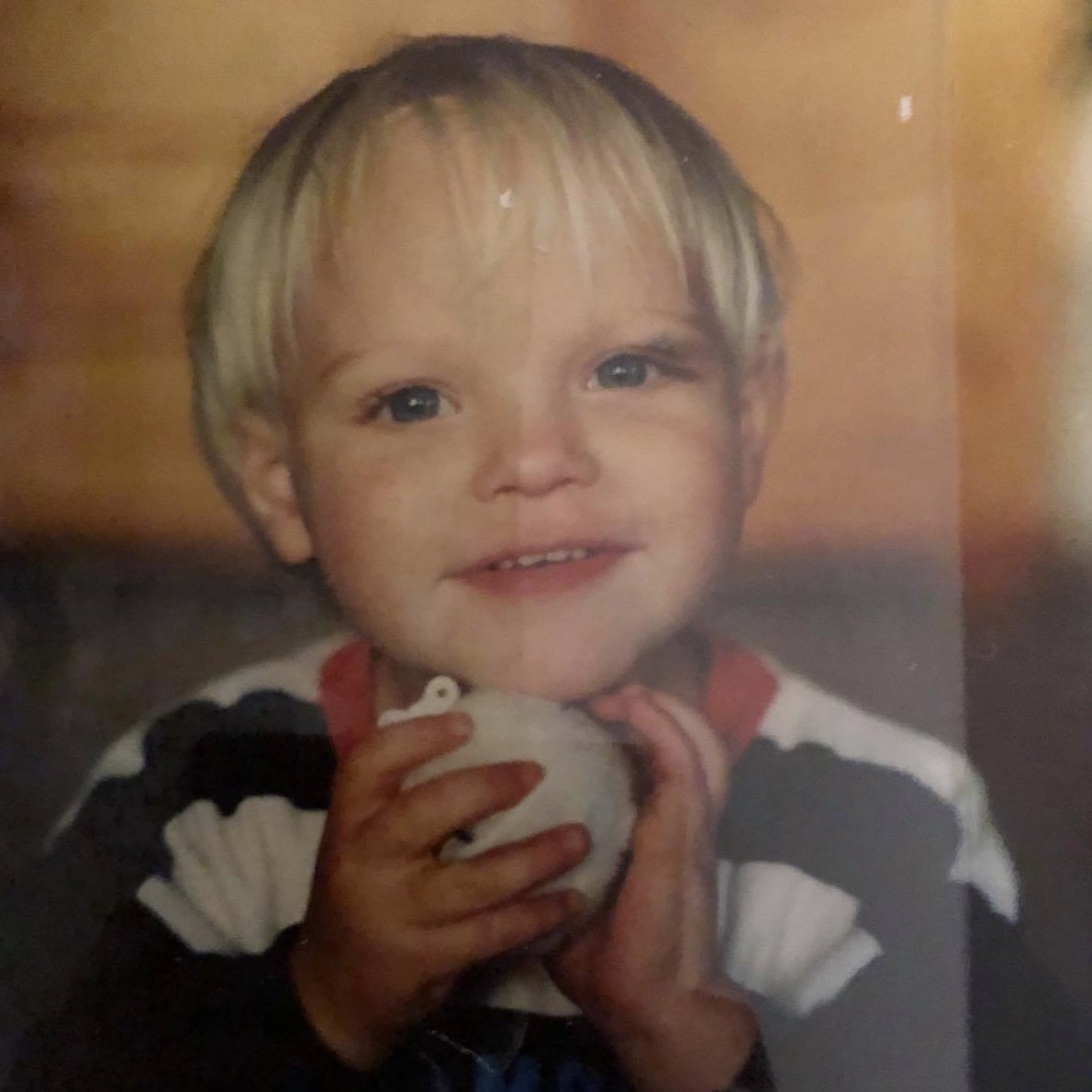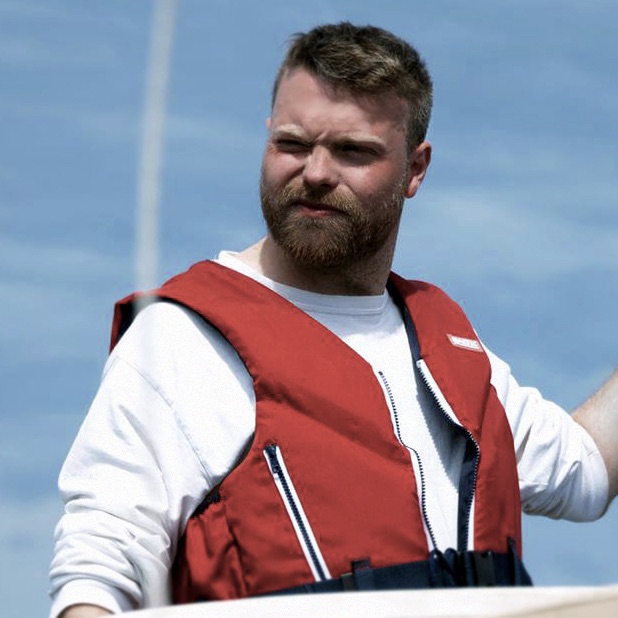 Nicklas Andersen
Digital Designer
All dwarf profiles
Automation & Personalization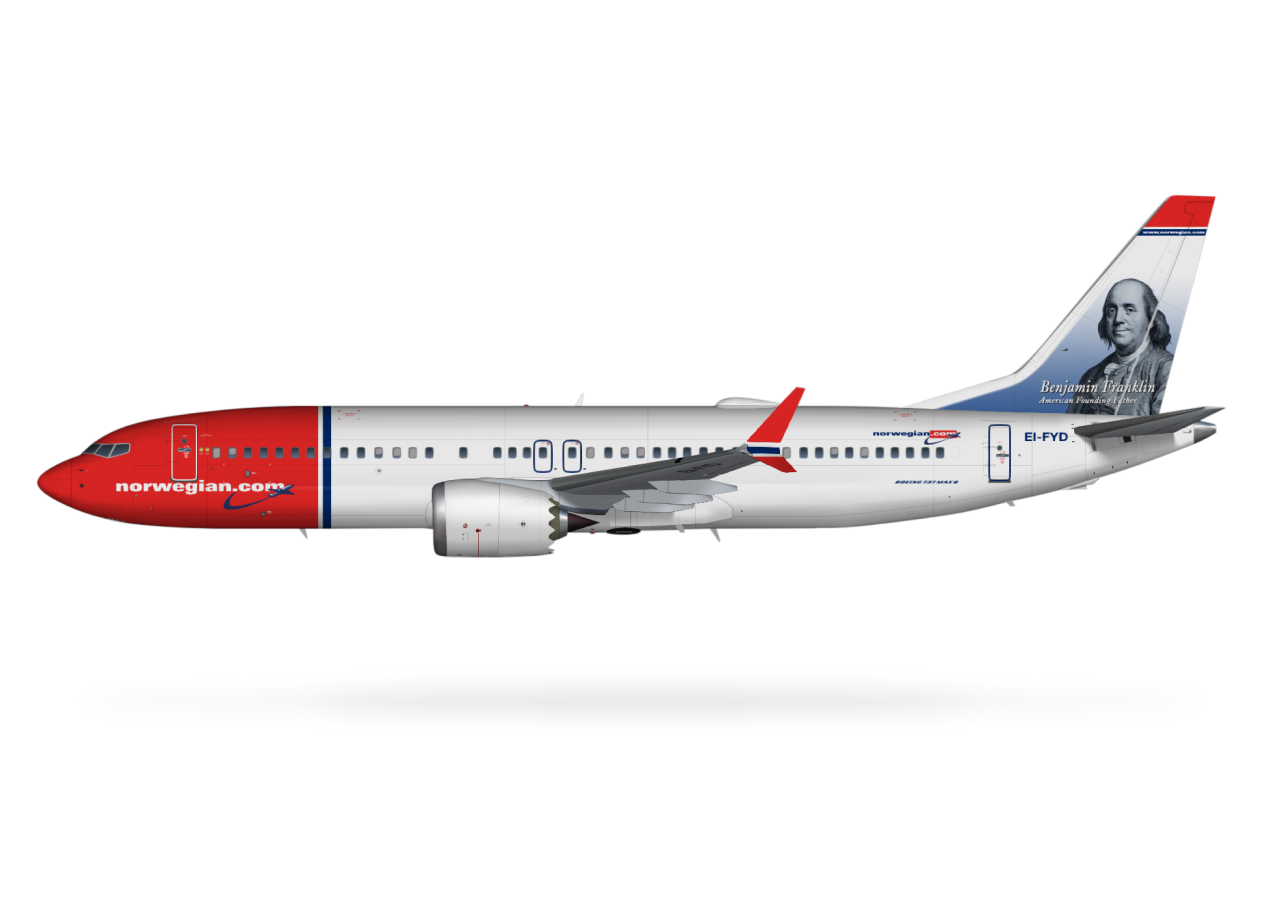 Norwegian
Individual, Well-Timed Travel Communication